I made these chocolate witch hats last year - ice cream cones dipped in melted chocolate, 2 gummie works stuck inside the hat and stuck to chocolate cookies with one Smartie stuck to the middle of the brim. Cutie-cute, right?
They were tasty and a big hit with the kiddies. As for this year? I bought the biggest box of those tiny chocolate bars I could find. We all got the flue, my motivation went out the window along with my ambition to craft it up this year. Eh, there's always Christmas.
As for this year, the whole month of October has almost passed and I haven't written a single Halloween post?! Good gracious. Well, better late than never! Here are some of the cute things I've come across online for Halloween this year:
Clark Kent/Superman Costume, here
Chic Black and White Pumpkins, here
Rock Monster Crafts, here
Witch Broomsticks, here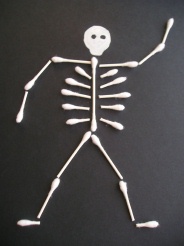 Q-Tip Skeleton, here
Hope you have a super duper Happy Halloween and you get your paws on some good candy!